Soul Bubbles (2006)
Art direction
About
"Soul Bubbles" is a video game released in 2007 on Nintendo DS
I did the Art direction and most of the visuals.
Experience the soulful stories of a young shaman apprentice entrusted with saving lost spirits and steering them to safety.

Under the guidance of his master, he must protect these fragile souls from the hostile and dangerous world around them by creating mystic bubbles to guide them on their spiritual journey.

Using your Stylus, manipulate these mystical bubbles by deflating or expanding them in order to transport your spirits to safety. Fill created bubbles with water and pop them to extinguish dangerous fires or use them to trap harmful gases and blow them away. These diverse worlds are filled with supernatural challenges, so move your soul bubble gracefully, collecting star dust along the way to allow the light from your protected spirits to shine.

Soul Bubbles features eight divine worlds with over 40 challenging levels that offer a rejuvenating new take on the puzzle genre.
he purest gaming experience we've had for a long while. (…) It's beautiful, it's elegant, it's clever – if you don't like this game, you're dead inside. (…) Our favourite DS game of the year.
Nintendo Official magazine / Review: 93%
Soul Bubbles has a compulsive quality to it – no doubt exacerbated by its gorgeous aesthetic design and beautiful ambient score. (…) Mekensleep may well have hit upon the DS's very own answer to LocoRoco.
Edge magazine / Preview
Impressive (…) This is a great idea done very well – the controls are well-realised, the puzzles fiendish and the whole greatly entertaining to play (…) This looks very good for the DS, with greatly entertaining bubble physics and a lovely, earthy colour palette
IGN UK / Review: 8.4/10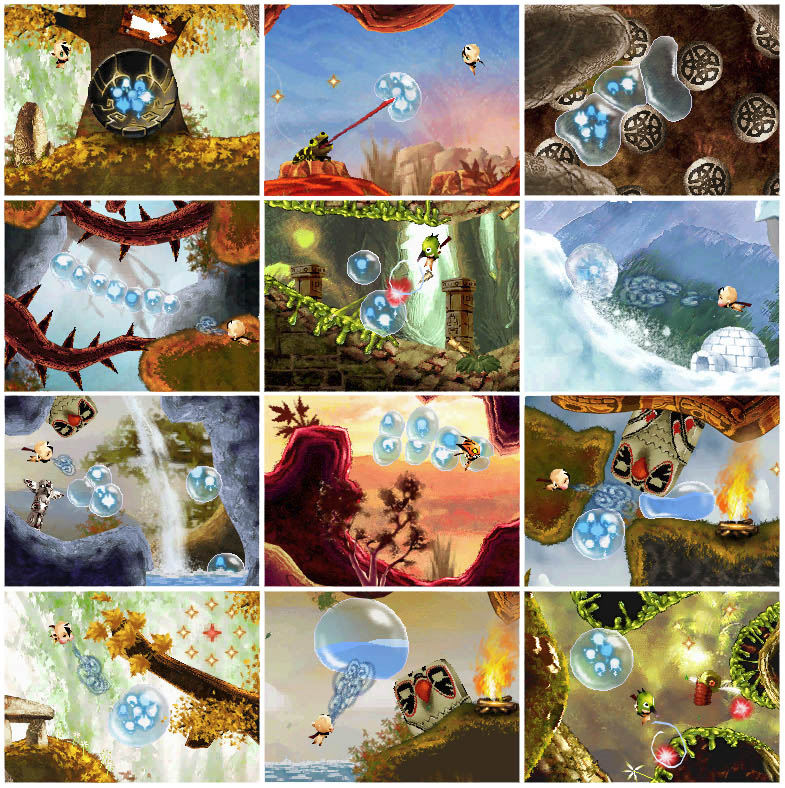 Nominations & Awards
Nominated for "Best Debut" at GDC Awards 2009 (USA)
Nominated for "Best Handheld Game" at BAFTA 2009 (UK)
Won "Best Handheld Game" and "Grand Prize" at FJV 2008 Milthons Awards (France)